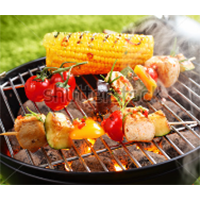 All American BBQ
Hors d'oeuvres
Bacon and Cheddar filled Angel Biscuits topped with Jalapeno Jam
Grilled Shrimp Skewers with Lime and Cilantro sauce
Pulled Pork Sliders
Cherry Tomato Caprese Skewers
Corn Chowder shots with Tiny Biscuit Farm Stand Crudites with varied dipping sauces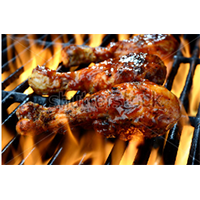 Salads and Sides
Temptations Chopped Salad
Chopped Romaine, roasted corn, scallions, red and green bell pepper, celery, roma tomato, and cilantro with a Southwest Ranch and a crumble of bacon
Cucumber and Sweet Onion Salad
Thinly sliced Cucumber and sweet onion with fresh dill in a Lemon Vinaigrette with Sea Salt
Avacado Salad Stuffed Tomato Halves
Tomato halves filled with creamy Avacado and Pico-de-Gallo topped with a Crisp Tortilla Chip
All American Potato Salad

Apple Slaw with a cider vinaigrette

Roma Tomato and Zucchini Gratin
Layers of sliced roma tomato and zucchini baked with fresh basil, crisp bread crumbs and Parmesan cheese.
Tasty T's Baked Beans (can be vegetarian)
Three types of beans slow baked with touches of brown sugar, mustard, pork shoulder and many spices
Maple Mashed Sweet Potatoes
Sweet potatoes mashed to a creamy softness lightly flavored with pure Maple syrup and topped with spiced pecan pieces.
Fresh Herb Roasted Fingerling Potatoes
Sweet Creamed Corn
Corn on the Cob ready to dip in Cilantro & Chile Butter
Tasty Temptations Kicked up Mac and Cheese
A rich blend of 3 cheeses in a creamy sauce with a jalapeno kick
Entree
Texas Brisket
Slow cooked then smoked to its most tender point with BBQ sauce on the side
Up North BBQ Ribs
Spice rubbed and slow roasted then brushed lightly with Honey BBQ sauce for sweet crispness.
Carolina Pulled Pork
Tender "fall apart" pork served on an old fashioned roll topped with Dixie slaw
Eastern Lemon Roasted Chicken
Basted with butter, herbs and white wine.
Everyone's BBQ Chicken
Bone-in chicken grilled and slathered with sauce
Half Pound Burger
grilled and ready for your favorite toppings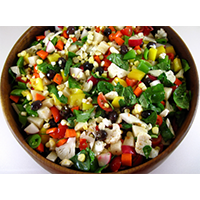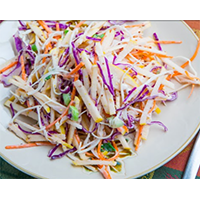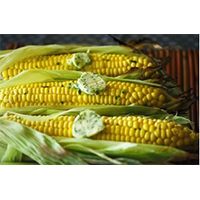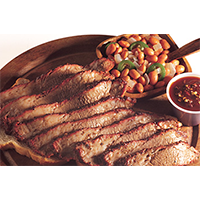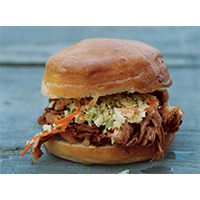 Beverages:
Ice Tea
Lemonade
Soda
Water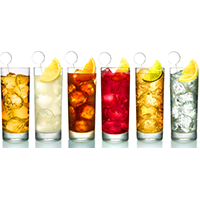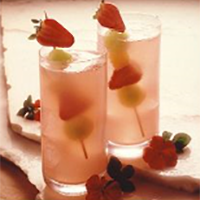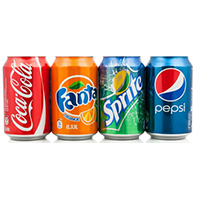 Desserts:
Texas Sheet Cakee
Ice Cream Sandwiches
Mini Mason Jar Cheese Cakes
S'mores on a Stick